Thursday, April 19 2012 11:00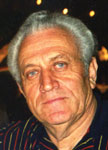 Yury Basov, 78, of Lenexa, passed away Sunday, April 15, 2012, at the Overland Park Regional Medical Center.
Funeral services were held Monday, April 16, 2012, at The Louis Memorial Chapel, with burial at Rose Hill Cemetery. The family suggests contributions to The Temple, Congregation B'nai Jehudah, 12320 Nall, Overland Park, KS 66209 or a charity of one's choice.
Yury was born in Kiev, Ukraine, and came to the United States in 1980 with his son, Gene.
He worked in the shoe, leather and furniture manufacturing industries since the age of 12.
Yury was a former member of The Temple, Congregation B'nai Jehudah.
He helped people in need and was a great husband, father, grandfather and friend. Yury focused on his family and community.
He was a very active man who was always busy creating projects and doing things with his "golden hands."
Yury always enjoyed a challenge when it came to repairing, fixing or making something new.
He is survived by his sons and daughters-in-law, Gen and Helen Basov, Leawood, and Vlad and Katya Basov, Lenexa; and grandchildren, Ashley Basov, Ryan Basov, both of Leawood, and Landon Basov, Lenexa.
Yury will be greatly missed by his family and his many friends.
An online guest book is available at www.louismemorialchapel.com.
Arr: The Louis Memorial Chapel, 816-361-5211.