Written by Barbara Bayer, Editor
Thursday, April 19 2012 11:00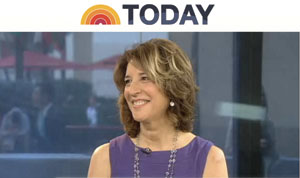 A 'TODAY' STAR — Susan Stiffelman, who grew up in Kansas City and now lives in Malibu, Calif., was interviewed on NBC's "Today" on March 15. Her book, "Parenting Without Power Struggles" was republished by Simon & Schuster, and was just released. Susan, the daughter of Lorraine and Lester Stiffelman, was confirmed at The Temple, Congregation B'nai Jehudah and is a graduate of Shawnee Mission East. She has been to Kansas City many times for presentations, including two well-attended seminars for Jewish Family Services and one for the preschool teachers at Beth Shalom's Rose Family Early Childhood Education Center last spring.

SUPPORT YOUR COMMUNITY — This coming week is an exceptionally busy week for citywide activities. The first is the annual Yom HaShoah memorial service Sunday, April 22, at the Lewis and Shirley White Theatre at the Jewish Community Campus. This year's service commemorates the 69th anniversary of the Warsaw Ghetto uprising and the 49th anniversary of the dedication of Kansas City's Memorial to the Six Million. This moving service begins at 1:30 p.m.
Yom HaZikaron, Israel's memorial day honoring fallen Israeli soldiers and civilians, is set for 7 p.m. on Tuesday, April 24 at the White Theatre. Israeli Officer Oren Zini, who is currently studying in Leavenworth, Kan., will speak about the significance of Yom HaZikaron and about his experiences in the Israel Defense Forces. Prior to the service, which is free and open to the community, the movie "Beaufort" will be shown in Conference Room C at the Jewish Community Campus.
Yom HaAtzmaut, Israel's Independence Day, falls this year on Thursday, April 26. It will be celebrated from 5:30 p.m. to 8 p.m. at Congregation Beth Shalom at 143rd and Lamar. The communitywide event features children's activities, Israeli food and entertainment, and is free. Food is available for a nominal fee.
All these events are free and open to the community and each is important and significant to the community in a number of ways. I know being out three times in one week is a struggle for me personally, but I urge you to do your best to make it to as many of these events as you can.

WICHITA TORNADO RELIEF —Destruction from tornadoes that struck Wichita and the surrounding area last weekend has prompted an outpouring of support from Jewish Federations and concern from Jews around the country. The Mid-Kansas Jewish Federation has opened the Wichita Area Tornado Relief Fund to provide emergency funding to the victims of the tornadoes on April 14.
Tornadoes destroyed many homes and businesses throughout Kansas with Wichita being the hardest hit. the tornado destroyed about 100 homes in the Oaklawn area before damaging more homes as it moved out of town. While no one died in Kansas, many will need help rebuilding after losing everything.
According to the MKJF, neither of the two synagogues in Wichita were damaged by the tornado.
The MKJF will be working with the Salvation Army in the rebuilding efforts. To help, tax-deductible donations can be made securely through the website, mkjf.org (make sure to enter "Wichita Area Tornado Relief" in the designation box) or mail a donation to The MKJF, Attn: Wichita Area Tornado Relief Fund, 400 N. Woodlawn Ste. 8, Wichita, KS 67208. This fund will be open through May 15.

HONOR THY MOTHER — Jewish Women International (JWI) is once again honoring the 30,000 women spending Mother's Day, which is Sunday, May 13, in battered women's shelters through its Mother's Day Flower Project. JWI's Mother's Day Flower Project delivers hope — both in the bouquets and beauty products JWI sends to 200 shelters across the United States on this special day, and through initiatives, supported by Flower Project proceeds, that work every day to educate communities, empower women and break the cycle of abuse. More than 70 synagogues and organizations have signed on to help raise awareness and funds for this important cause. OPI Products, Inc. is joining JWI this year in delivering bouquets and beauty products to the shelters. For each $25 contribution to the project, JWI will send a Mother's Day card to any woman the donor chooses, thanking her for the inspiration to help women in need. This year's card features original artwork created for the 2012 Flower Project by artist, author and illustrator Connie G. Krupin. To learn more about this project, or to make a donation and send a card, visit www.jwi.org/fp or call 800-343-2823.


Last Updated on Wednesday, April 18 2012 13:50