| | | | |
| --- | --- | --- | --- |
| Short stories immersed in Jewish culture | | | |
Written by Stu Lewis, Contributing Reviewer
Thursday, April 12 2012 11:00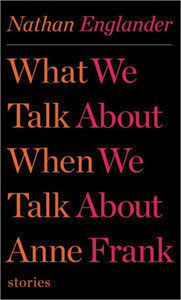 "What We Talk About When We Talk About Anne Frank" by Nathan Englander. (Knopf Doubleday Publishing Group,2012)
I was reading the title story of Nathan Englander's latest collection of short fiction, "What We Talk About When We Talk About Anne Frank," wondering where he was going with his rambling tale of a reunion between two old school friends and their husbands — one couple secularized, the other haredi — when suddenly I got to the end, and I sat there stunned, unable to read on for several minutes. Such is the nature of an Englander story. He may seem to be going nowhere, but like a gymnast sticking a perfect landing, he brings it all together in the final paragraphs.
The story, despite its title, is not really about Anne Frank, who is here a metonym for the Holocaust. The title is rather an allusion to Raymond Carver's "What We Talk About When We Talk About Love," as if to suggest that even when Jews make small talk, consciousness of the Holocaust is always in the background.
The second story, perhaps the best in the collection of eight, is "Sister Hills," a chronicle of the relationship between two families in an Israeli "settlement." It revolves around an ancient Jewish superstition that the angel of death can be fooled. In this story, a woman "sells" her ailing daughter to a neighbor for that purpose, with unintended consequences. Set against the tragic circumstances of Israel's unending state of war, the story veers deftly between comic absurdity and tragedy.
What I especially like about Englander's stories is the extent to which he is immersed in Jewish culture, not as backdrop but as the essence of his characters' identities. (I have heard that my paternal grandmother, not a particularly religious person, had a rabbi come to the house to change my aunt's name under similar circumstances.) For the most part, the stories are Jewish to the extent that they would not make sense if transferred to another culture.
Probably the most provocative story in the collection is the final one, "Free Fruit for Young Widows," which tackles in a non-judgmental way the difficult moral choices people make in wartime and the way in which the experience of the Holocaust and the ongoing conflict with the Arab nations affect those choices.
Another story which I found particularly powerful was "The Reader," a surrealistic tale of an author who goes on a book tour only to find that no one cares about his work except for one devotee who follows him from town to town. Despite the story's discouraging view of the state of literature in modern society, the author manages to find an uplifting message: "Author reads for Seattle; it has always been his city. He reads for the buyer, who has always believed. Author reads one more time to his old man. He smiles at his reader, and reads on through the tears. Author reads on. And Author reads on."
With his first book, "For Relief of Unbearable Urges," Nathan Englander marked himself as an important young writer to be watched. With this second volume, he has earned a place beside authors such as Bernard Malamud and I.B. Singer as one of the most important Jewish story-tellers of our era.