| | | | |
| --- | --- | --- | --- |
| New cookbooks feature Passover delicacies | | | |
Written by Barbara Bayer, Editor
Thursday, March 29 2012 11:00
Passover is just barely a week away and if you haven't already determined what you plan to serve during that time, several new cookbooks have been recently published to help you make those decisions. Here are a few of those new cookbooks, complete with mouth-watering recipes for Passover, that have crossed desk recently.


'Fresh & Easy Kosher Cooking: Ordinary Ingredients, Extraordinary Meals'
A recipe doesn't have to be complicated to be delicious, nor exclusive to certain kitchens. Such is the mantra of Leah Schapira, co-founder of the popular culinary website, www.CookKosher.com, and author of the new book, "Fresh & Easy Kosher Cooking: Ordinary Ingredients, Extraordinary Meals" (Artscroll; November 2011). Inspiring everyone from traditional kosher cooks to everyday working women and moms, Schapira shows how to use simple, fresh ingredients to create time-sensitive, tasty meals for all to enjoy.
A busy wife and mother, Schapira extends her recipes to a wide audience of people who don't have much time to cook. She includes useful tips, minimal ingredients and easy-to-follow steps. The book is organized into chapters with sections containing time-saving tips such as menus, freezer-friendly meals and an index of food pairings for weeknight recipes. Her seasonal menus encourage home cooks to take advantage of market fresh, simple ingredients for even easier recipe planning.
Recipes are divided into chapters covering soups, salads, dips and sauces, sides, brunch and lunch, main dishes, traditional and desserts.
Here's an unusual offering for Passover from "Fresh and Easy Kosher Cooking":

Egg & Liver Tower — Meat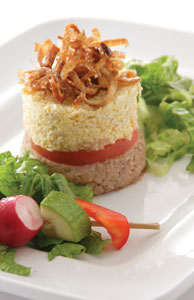 Adding height in food presentation makes everything look better, and you can achieve this without going out to buy another kitchen gadget. This isn't so much a recipe as it is a suggestion for presentation. Everyone has a preferred egg salad and/or chopped liver recipe, or knows where to buy the family's favorite. Have fun plating these towers and your table will be simply elegant — and no one has to know how easy they were to assemble!
Try serving these towers with potatoes and/or sweet potatoes.

1 8 oz. can, emptied of all contents
Oil, to brush can
Prepared egg salad
Prepared chopped liver salad
1 large tomato, sliced into thin rounds

Using a can opener, remove both ends of the can, forming a ring mold. Wash thoroughly. Brush the inside of the can with oil and set in the center of your serving plate. Add 3 to 4 tablespoons liver. Pat down well.
Position a slice of tomato over the liver; it should cover entirely. Add 3 to 4 heaping tablespoons egg salad. Pat down well.
Carefully remove the ring mold and garnish with crispy onions.
Repeat with remaining liver, tomato, egg salad and onions.

Note:
Make sure your egg salad has enough oil or mayonnaise to hold it together. Dry egg salad will not maintain the shape of the mold.

Crispy onions
1 c. oil
1 large onion, thinly sliced into rounds

These onions make for a stunning topping. Use over mashed potatoes, meats or eat as-is when no one is watching!
Heat the oil in a small saucepan over high heat. When hot, add the onions and reduce heat to low. Simmer for 12 to 15 minutes, stirring them with a fork every so often, until they turn a golden brown (it may take longer depending on your pan).
Place paper towels on a flat tray or pan. Spread the cooked onions in a single layer over the paper towels and let dry. The onions will crisp up while drying.


'The Bais Yaakov Cookbook'
Often the best cookbooks are ones that include favorite recipes from members of the community. That's the case with "The Bais Yaakov Cookbook," (Feldheim Publishers, 2011). It's available online at amazon.com and a variety of other websites. Proceeds from the cookbook all go to the Fund for Jewish Education, which benefits numerous charitable institutions and schools in the Unites States and Israel.
This bestselling cookbook, now in its second printing, is considered the hottest cookbook in the Jewish market right now. It is a gorgeous book with terrific recipes and a ton of useful information for the kosher cook. It has 200 recipes and is aimed at uplifting and enhancing "your Shabbos, Yom Tov and every day tables."
Consider trying this recipe from "The Bais Yaakov Cookbook" for Passover:

Rib Eye Steak with Mushroom Sauce
Yield: 4 Servings

4 (8 oz.) rib eye steaks
Salt
Ground black pepper
2 T. vegetable or canola oil

Mushroom sauce
4-6 oz. fresh mushroom combination, including shiitake and cremini mushrooms, sliced
3 cloves garlic, minced
3 T. fresh parsley leaves, chopped
2/3 c. beef broth
2 T. good quality red wine

Rinse meat and pat dry; season with salt and ground black pepper. Heat oil in large skillet. Sear meat in hot oil, about 1 minute each side and place steaks into broiler pan. Keep skillet.
Preheat broiler. Broil steaks in the center of the oven until steak is light brown and slightly charred, about 5 minutes. Turn steak over and continue broiling to medium rare doneness, about 5 more minutes. Remove from oven and let rest.
Meanwhile, prepare mushroom sauce. In the same skillet used for browning meat, add mushrooms, garlic and parsley. Sauté over low heat until soft, about 5 minutes. Add broth and wine. Mix to combine and cook, about 3 more minutes.
Pour mushroom sauce over meat. Serve.


'Vegan Holiday Kitchen'
Veteran author Nava Atlas has compiled a cookbook with more than 200 recipes for every festive occasion in "Vegan Holiday Kitchen," (Sterling Publishing, 2011). Atlas is one of the most respected names in vegetarian and vegan cooking. She addresses everything from Thanksgiving to Chanukah to Passover to celebratory brunches, lunches, dinners, potlucks and buffets.
This is not a kosher cookbook or a Jewish cookbook, it just has Jewish chapters included. Atlas refers to her extended family as non-religious Jews and said she grew up with what she terms the "blandness of our mothers' or grandmothers' Ashkenazik cooking." However, she writes that she enjoyed the emphasis on vegetables, fruits, grains, legumes, herbs and spices found in the Sephardic tradition.
Recipes for Passover, Rosh Hashanah and Chanukah include Moroccan-Style Vegetable Soup with Vegan Matzo Balls; Vegan Latkes, Coconut-Almond Macaroons, Sweet Noodle Kugel and Seven-Vegetable Couscous.
The book includes several interesting vegan recipes for Passover, including the following:

Spinach, Leek, and Potato
Matzo Gratin
8 TO 10 SERVINGS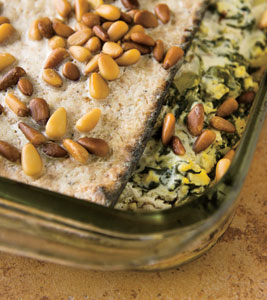 This dish closely resembles the layered matzo casseroles, called minas, which are commonly served at Sephardic seders. They consist of layered matzos, vegetables and cheese. With optional Daiya cheese, or no cheese at all, it's a tradition well worth adopting (and adapting) for a vegan Passover seder.

8 medium potatoes
1 c. raw cashews
1 fairly ripe avocado, pitted, peeled and cut into large chunks
Juice of 1 lemon
2 T. extra-virgin olive oil
2 large or 3 medium leeks, white and palest green parts only, chopped and well rinsed
10 to 12 oz. baby spinach, rinsed
2 T. minced fresh dill, or 1 t. dried
1/4 c. matzo meal or quinoa flakes
Salt and freshly ground pepper to taste
6 matzos
1 cup grated Daiya cheese, optional
1/3 c. pine nuts for topping, optional
1. Cook, bake or microwave the potatoes in their skins until just tender. When cool enough to handle, peel and cut into 1/4-inch-thick slices.
2. Cover the cashews with 1 cup boiling water in a heatproof bowl and let stand for at least 15 minutes. Drain the cashews, then combine with the avocado and lemon juice in a food processor. Process until smoothly pureed; drizzle enough water through the feed tube while the processor is running to give the mixture a thick, creamy texture.
3. Preheat the oven to 350º F.
4. Heat the oil in a large skillet. Add the leeks and sauté over medium-low heat until golden. Add the spinach in batches, covering and cooking until wilted to make room for all of it. Stir in the cashew cream, dill and matzo meal. Season with salt and pepper.
5. Break each matzo in half and place in a shallow dish or bowl. Cover matzos with room-temperature water until slightly pliable (don't let them get mushy!), about 2 minutes; drain. Lightly oil a 9 x 13–inch casserole dish.
6. Layer the casserole as follows: line the bottom with a layer of matzos, using two matzos per layer. Follow with a layer of potato slices, half the spinach mixture, half the optional cheese and another layer of matzos. Repeat, ending with a layer of matzo.
7. Bake for 30 to 40 minutes, or until top is golden with spots of brown. If using pine nuts, sprinkle them over the top about 10 minutes before removing from the oven. Let stand for 10 minutes, then cut into squares to serve.


'Kosher-style Passover Cooking Made Simple'
The folks that gave us the "30 Minute-Seder" Haggadah have just published a new cookbook entitled, "Kosher-Style Passover Cooking Made Simple — Your survival guide to a delicious Passover!" As the back cover states, "Finally a cookbook that keeps it simple and enables you to create mouth-watering kosher-style Passover meals that the whole family will enjoy."
Unlike cookbooks that are crammed full of enticing-but-never-made-choices, this incredibly easy-to-use cookbook only contains the recipes you need for a complete seder dinner including what you need for the seder plate. The paperback cookbook includes three main dishes, three side dishes, three desserts and a tropical twist on the popular breakfast dish, Matzah Brei. To order this cookbook go to: www.30minuteSeder.com.
This following recipe can be served at the seder, as the title suggests, or any time during the year.

Seder Salmon

This quick and easy to make, heart healthy dish is lactose and gluten free.

6 6 oz. salmon fillets or steaks

Marinade:
Salt and pepper, to taste (about 2 tsp.)
6 T. lemon juice
5 T. fresh (or 3 t. dried) parsley, chopped
5 T. fresh (or 3 t. dried) basil, chopped
9 cloves garlic, minced
½ c. olive oil

Garnish:
Lemon slices, fresh parsley springs, and/or basil leaves

1. Preheat oven to 350 degrees
2. Mix marinade ingredients in a medium bowl.
3. Place salmon in a baking dish large enough to hold all the fish in a single layer and pour the marinade over the fish. Cover with foil and refrigerate for an hour, turning salmon over after 30 minutes.
4. Remove from refrigerator and let sit at room temperature for 10 minutes. If cooking fillets with skins, make sure they are skin side down.
Bake at 350 degrees until fish easily flakes with fork (25-45 minutes).
Garnish with fresh lemon slices and fresh parsley or basil and serve.
Serves 6
Prep: 10 minutes
Cook time: 25-45 minutes
Last Updated on Wednesday, March 28 2012 09:41